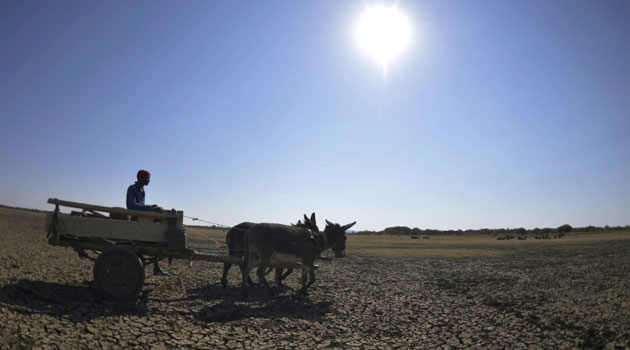 By MUTHONI WAWERU, NAIROBI, Kenya, May 22 – Climate change experts have highlighted funding as a major hindrance in the implementation of the Paris Agreement on Climate change.
According to the Climate Change Adaptation Deputy Director Stephen King'uyu, the country has made great strides in implementing the agreement.
He stated that the organisation is building on existing structures to scale up long term action on climate change.
"The funds have not flowed as expected but at least as a country. We have made deliberate efforts in mitigation and adaptation in national planning and budgeting," said King'uyu.
Some of the challenge that partly hinder the implementation includes inadequate resource allocation, lack of political goodwill, low levels of awareness and socio-economic benefits often not communicated.
"It is from the Medium Term Plans (MTP) that we derive the five year medium term expenditure framework from which we derive the annual budget at both levels of government."
"If we start with the planning we are in the right track, then we lay the ground for budgeting," he noted.
At the same time, the Kenya Climate Change Working Group Chairman John Kioli said the issue of financial support should be taken seriously to enable people and communities to transition to clean and reliable energy while adapting to climate change.
"Funding is one of the mechanisms that the government needs to improve on. It is a shame to see the government return money to donors which should have been put into good use," cited Kioli.
"When we talk about issues of adaptation, the agriculture sector is at risk. Our economy is dependent on agriculture which is highly affected by temperature changes. This leaves our economy punctured."
The expert also emphasized on the need for a road map to link local level risk assessments into national level plans, with the input from climate change adaptation.
"This has implications for the way that climate change, and associated risks, are managed in cities through spatial planning decisions."
The Paris Agreement makes it clear that developed countries will continue to provide and mobilize finance to support developing countries. Under the agreement, governments agreed to balance public funding between adaptation and mitigation, and agreed to significantly increase support for adaptation before 2020.
And to ensure that there is transparency, countries have committed to improve reporting on finance, with everyone providing information about finance provided or received at an appropriate time. Depending on the impact of the funding, a higher budget may be adjusted after the expiry of time set.
China and USA represent almost 40 per cent of global carbon emissions (37.98 per cent).
By any standard, their ratification of the Paris Agreement is one giant leap forward and a step closer to becoming a reality.
At least 195 countries have adopted the agreement so far, making it the first-ever universal, legally binding global climate deal.
The agreement sets out a global action plan to put the world on track to avoid dangerous climate change by limiting global warming to well below 2°C.
It is due to come into force in 2020.