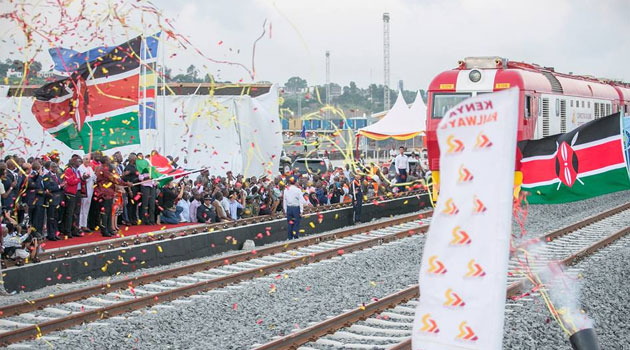 By JOSEPH MURAYA, NAIROBI, Kenya, May 31 – Those convicted of a capital offence for vandalising the Standard Gauge Railway will be hanged, President Uhuru Kenyatta warned Wednesday as he launched the passenger train service in Mombasa.
He said people must understand the project does not belong to the Jubilee Government but all Kenyans, including future generations.
"I want to announce today that those who will be prosecuted for destroying Kenyans' property; for destroying what belongs to our children, I pray for forgiveness from God, but I will sign their death sentence for them to be hanged," he cautioned.
His declaration came after Director of Public Prosecutions Keriako Tobiko also warned that those arrested for vandalism will be treated as organised criminal gangs and economic saboteurs.
"Be supportive and help with constructive criticism, so that we can improve and ultimately have what we want which is a world class working railway," President Kenyatta said.
"There are those who don't want anything good. They want the government or Uhuru to look bad so that it looks like we have been overwhelmed. But this railway does not belong to Uhuru, Ruto or the government. It has been constructed using money from 45 million Kenyans. It belongs to Kenyans. There is a provision of the law for those who destroy any critical infrastructure and that is economic sabotage which falls under a capital offence. If prosecuted, you go to the death row."
The Chinese-funded and built railway is the country's biggest infrastructure project since independence, and while it has courted controversy, it is a key selling point for the ruling Jubilee Party ahead of elections in August.
It is also part of a master plan by East African leaders to connect their nations by rail, with the Standard Gauge Railway planned to eventually link Uganda, Rwanda, South Sudan, Burundi, and Ethiopia.
The charges for containerised cargo from the Port of Mombasa to the Inland Container Depot in Nairobi are set at Sh50,000 per container. Other freight will be charged at 0.07 per ton kilometre translating to Sh32,800.
This will result in a 40 per cent decline in the cost of cargo transport in comparison to the Sh80,000 to Sh90,000 cost of transporting goods by road between Mombasa and Nairobi.
In addition, the time taken to transport goods will reduce from the current 16-24 hours, to a maximum of eight hours.
The Nairobi-Mombasa train has a capacity of 1,200 people with one round trip planned in the initial stage. More trips will be added subject to demand for the service.
The passenger train services between Nairobi and Mombasa will cost Sh700 for economy class and Sh3,000 for first class, according to fares released by the railways management.
The passenger service named Madaraka Express will operate the Intercity Train and the County Train.
The Intercity Train is an express train between Nairobi and Mombasa and the County Train will make stops at Mariakani, Voi, Emali, Kibwezi, Mtito Andei and Athi River.