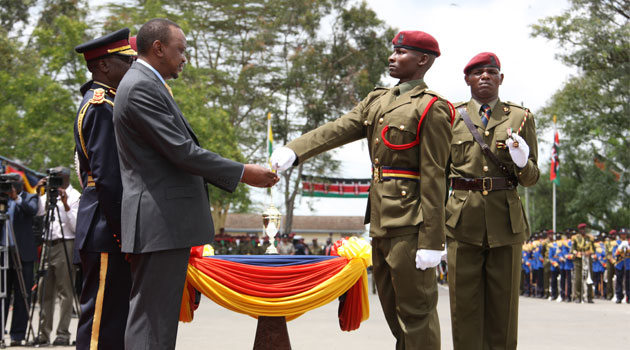 By JOSEPH MURAYA, NAIROBI, Kenya, Mar 1 – President Uhuru Kenyatta is to preside over the passing out parade of General Service Unit recruits in Embakasi on Tuesday.
The Head of State was expected to arrive at the GSU training ground at about 11am.
In the past two weeks, the president has presided over similar exercises involving more than 9,000 graduates for the Regular Police, Administration Police as well as the Prisons Department.
It is part of the government's efforts to double the number of security forces in the country in line with United Nations requirements.
This is set to increase the numbers of the police services towards the recommended UN ratio of one police officer for every 450 citizens.
The government has for the first time in the history purchased armoured police vehicles in a bid to address emerging security challenges in the country.
Some of the key security challenges according to police include the emerging organised criminal gang threats and the persistent terror menace.
According to police, some individuals plan to revive organised criminal gangs ahead of the 2017 General Election.
Inspector General of Police Joseph Boinnet says already they have narrowed down on a number of people behind the move, who are working with politicians.
Some of the gangs include the dreaded Mungiki, Sungu Sungu, Gaza, Super Power, and Sitaki Kujua mainly operating from Nairobi.
Other gangs are the American Marines in Kisumu, Kenda Kenda in Kirinyaga, Haribika Boys in Kericho, The Baragoli Boys in Migori, Ward 4 in Muranga among others.
"We are aware of individuals who want to revive these groups," he says.
"They are doing so with an eye on the upcoming electioneering period so that they align themselves with various candidates, obviously for money."
Police will be summoning the suspects among them some politicians.
The police boss says the individuals trying to resuscitate the illegal groups mostly work in distribution or manufacturing of illicit brews and want to use the groups to cause violence and solicit for money.
A list of wanted terrorist linked to a number of attacks in the country has also been released.