In 1870, Maurice Hennessy created Hennessy X.O for his circle of friends and introduced a new style of cognac, that to date continues to be the jewel in the Hennessy crown, often revered as a bold, attention grabbing cognac, created for luxury. Renaud Fillioux de Girande, eighth generation master blender for Maison Hennessy, once said: "Hennessy X.O is the Cognac for every occasion. It's timeless – the fact that its inspiration never changes and never bends to the whims of trends means that it exists in a realm beyond fashion."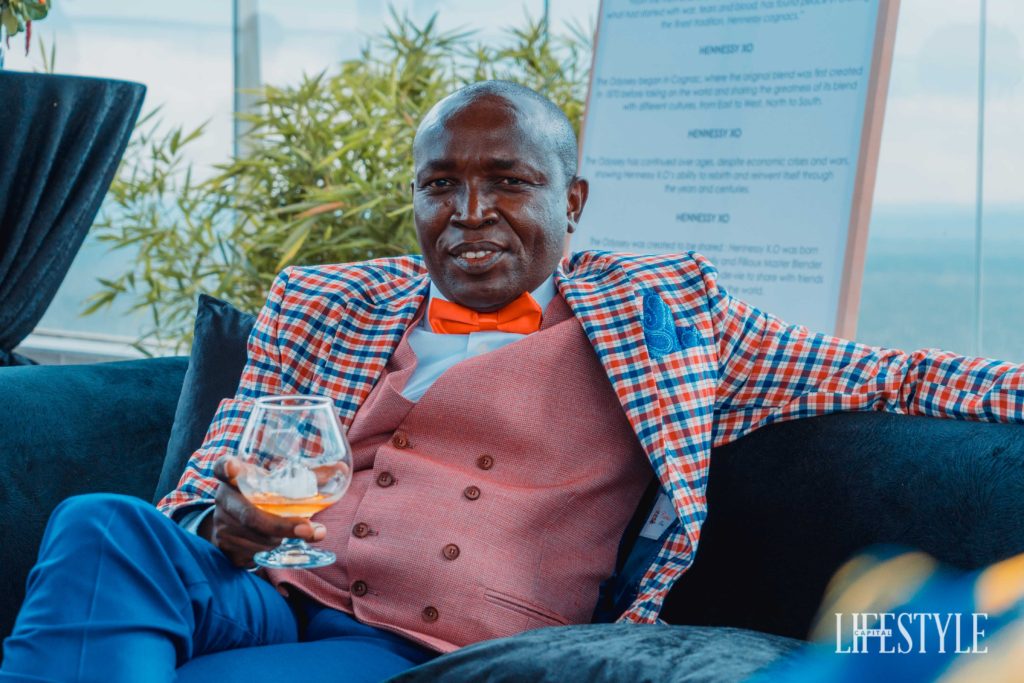 On the 25th of September 2020, Alexandre Helaine, Moet Hennessy Market Manager Eastern Africa and Lucia Musau, Luxury PR Consultant aka Queen of Nairobi bespoke events, hosted a very special group of Hennessy consumers to an afternoon of unmatched sensory elegance to celebrate 150 years of Hennessy X.O. ( #HennessyKe ) The venue, Emara Sky lounge on the 10th floor of the newly opened 5-star Emara Ole-Sereni Hotel, offered spectacular views of the city including the world famous Nairobi national park, commonly referred to as "The World's only Wildlife Capital."
Kenya joined the world in marking the global event, with a broadcast of an artistic, 15-minute daytime fireworks display from the banks of the Charente River in Cognac, France through a live video link. The fireworks were launched from 150 oak barrels symbolizing the 150-year history of Hennessy X.O. It was a spectacular showcase of the true spirit of Hennessy X.O- bold, rich and complex.
The invite only #HennessyKe event brought together some of Corporate Kenya's beloved and most recognized industry CEOs, managers and personalities, among them, Rita Kavashe, Managing Director, Isuzu East Africa, Dorothy Ooko, Head Of Communications & Public Affairs, Sub-Saharan Africa at Google, Dr. Macharia Irungu, Managing Director at Kenya Pipeline Company (KPC), Donald Kipkorir, founding partner of KTK Advocates, Peter Nduati, CEO/Founder at Resolution Health East Africa, Carole Mandi, publisher and owner of True Love magazine, Suzanna Owiyo, renowned Singer|Songwriter, Michael Okwiri, Vice President, Corporate Communications- Airtel Africa, Dr. David Matsanga, Conflict Resolution expert, Roberto Simone, General Manager of Villa Rosa Kempinski & Olare Mara Kempinski, Capital Lifestyle Editor Vincent Ochieng, Gor Semelang'o, Managing Director & Founder CEO at PetroKenya Oil Co. Ltd and Morris Kaburu, Legal Affairs professional.
Drinking is not a question of quantity but of quality and as Maurice Hennessy once said, "The modern day Hennessy drinker is somebody who is refined enough to like the quality of a good drink because the king of spirit is cognac and the best one is Hennessy."
Each drop of Hennessy X.O is an invitation to awaken the senses. Thanks to a meticulous blending process, Hennessy X.O is a cognac of time-honored consistency. The Master Blenders' commitment to preserving quality, from the very first carafe to this day, has made this cognac an enduring symbol: its noble character stirs taste sensations while it's powerful, carefully balanced structure guarantees an extremely long finish.
Each guest at the #HennessyKe party received a special bottle of Hennessy X.O, packaged in a beautiful box with their names engraved on it-certainly a perfect gift for a Hennessy consumer. Indeed, 150 years later, the odyssey has just begun.
Hennessy X.O remains as true as it was when Maurice Hennessy first shared it with his inner circle. A timeless symbol with a powerful and balanced structure, it carries the promise of an extremely long finish: each drop an invitation to embark on an odyssey of the senses through seven tasting notes #HennessyKe
(Visited 3,331 times, 1 visits today)