Some were dumb-founded, others refused to believe that it was possible and a few stood in awe with their faces pressed against the Capital FM office windows, pointing at Mount Kilimanjaro, the roof of Africa and the highest mountain on the continent.
There she was, as if on cue right when all the clouds hovering above Nairobi parted early Thursday morning after Wednesday evening's heavy downpour, the warm golden sun shone down on The World Heritage Site rising up from its surrounding savannah plains, capped in snow, and visible from many kilometres away – as far as the Central Business District (CBD) in Nairobi.
Thursday morning from 7:25am to 7:30am, the few early birds in their highly perched CBD offices, enjoyed a glimpse of the majesty that radiated from Mount Kilimanjaro.
"I thought I was dreaming last time," commented Paul, an employee at Capital FM who last saw Mount Kilimanjaro from the same offices 2 years ago.
A trek up Mount Kilimanjaro does not require any technical mountaineering skill, however taking between 5-9 days on average and with the highest failure rate in regards to summiting a mountain in Africa, many only dream of seeing Mount Kilimanjaro from the glossy pages of a magazine.
So, next time you wake up to clear skies in Nairobi, look in the southeast direction and you may be lucky enough to see the stunning site of the 5,895m high mountain in Tanzania – an inspiring way to start your morning.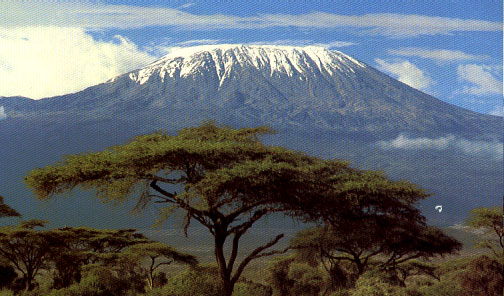 Photo credit: George Fisher
(Visited 3,030 times, 3 visits today)