(Lordrick Mayabi) – The Traffic Police department has now set the maximum speed limit in the yet-to-be commissioned Thika Superhighway at 50 kilometers per hour.
Nairobi Area deputy Traffic Commandant Leonard Katana says the move is aimed at reducing road carnage on the multi-billion shillings super highway.
He says the maximum speed on sections that are yet to be completed remains at 30 kilometers per hour.
"The road is coming to completion; we have not officially commissioned it but we have only opened up sections that are usable. We are going to do a lot of speed checks on this road (so) if you go higher than the prescribed limits expect a challenge," he warned drivers.
Katana has warned rogue motorists that a special team of traffic police officers has been set up to strictly enforce the speeds and other traffic rules on the road.
The officers will also ensure that vehicles use the right lanes depending on their respective destinations.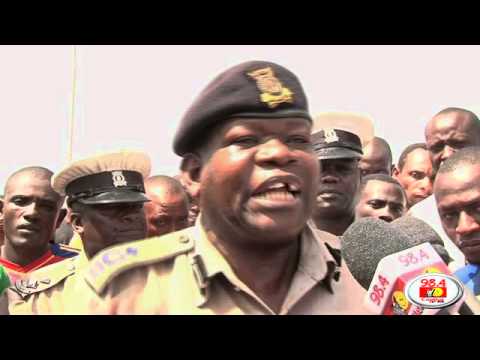 "All public service vehicles operating on the highway from Nairobi to Thika and are dropping passengers will be required to strictly use the service lines, the express lines are only for vehicles accessing either Thika or Nairobi directly," he insisted.
"These officers are supposed to make sure that we reduce to the very minimum our statistics on deaths on the highways. What we urge from the public is cooperation, we have seen the challenges on the road but we must remember that those who suffer most are road users especially those on foot," he emphasised.
Katana who was on an inspection tour of the superhighway directed traders and hawkers operating on the walkways to immediately clear from the areas designated for pedestrians.
"Stages that have been marked on the highway are for dropping passengers; we do not want to see busses blocking the road," he said citing Githurai as a notorious spot.
He urged licensed drivers to consider going for refresher courses, while driving schools should incorporate courses on how to navigate the superhighway.
Katana affirmed his support for the revision of traffic rules saying that they will only affect those who are on the wrong side of the law.
On Thursday, the Cabinet approved proposed amendments to the Traffic Act that are geared towards dealing with traffic offenses which account for 25 percent of accidents in the country.
They include hefty fines for traffic offenses, such as a fine Sh100,000 or imprisonment for two years or both, when a driver is convicted of reckless driving.